Dafür einfach auf das Bild klicken, KOCHLUST suchen und durch das Herz liken!
Danke fürs Voten!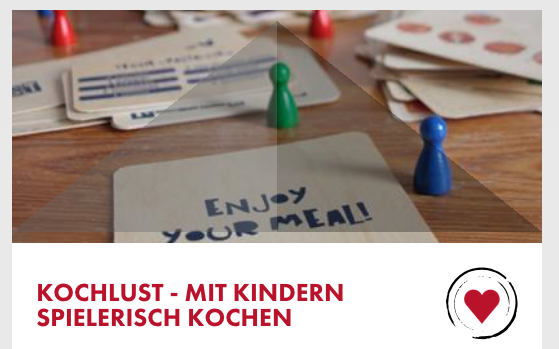 Just click on the image above, search for KOCHLUST and give me your like by pressing the heart!
Thank you for voting!
Ich möchte mit dem Kreativpiloten-Programm und dem Produkt meiner Masterarbeit "KochLust" durchstarten. Das Ziel des Konzeptes ist, gesunde Kinderernährung durch frühzeitiges gemeinsames Kochen in Familien zu fördern. Ich habe ein Produkt gestaltet, dass mit sehr einfachen Mitteln sehr spielerisch Familien zu einem Kocherlebnis motiviert.
Zur Zeit ist das Produkt im Prototypen Status, ich durfte es allerdings schon im April auf der Mailänder Designwoche ausstellen und sehr viel begeistertes Feedback einholen. Nun wird es an der Zeit aus dem Prototypen in die Serie zu gehen.
Helft mir durch die Votes in die nächste Runde zu kommen. Als Kreativpilotin erhält man ein Jahr lang Couching, Mentoring und die Möglichkeit in ein großes Netzwerk an kreativen Menschen zu kommen.
I would like to bring forward my masters product "KochLust". With this concept I aim to promote the idea of including children in the cooking process. KochLust turns cooking in a fun experience and encourages independence and creativity. Kids understand and learn food and cooking skills – form an early age on.
Right now the product is in the prototype status, but I had the chance to show it at the Milan Design Week and get some great feedback. Now it's time to turn the prototype in to a real thing, so it can reach many families!
Therefor, I am participating at the Kreativpiloten-programme. As a creative pilot you get one year of great couching and mentoring and the chance to become a part of a great network of creative people. Please help me to get in the next round by voting for me!